PT. JAWAHAR LAL NEHRU
P.M. OF INDIA VISITED US

SH. NAND LAL (1897-1969)
THE FOUNDER
OSAW's constant interaction with teachers and students helps in understanding their changing needs and adopt manufacturing plans accordingly. We have a dedicated team of Scienfists, Engineers and professionally trained technicians backed by a management set up which generates a sense of belonging and motivation. OSAW enjoys a prestigious place in the USA, Europe, Middie-East, South-East Asia and African Countries besides catering to its valued customers in India.

ELECTRICAL & ELECTRONICS DIVISION:
Calibration Standards : Precision potentiometers Decade Bridges, Standard Resistances, Calibration console (RFL) 5½ digit multimeter etc.

OPTICAL DIVISION:
Calibration Standards Focometer, Optical Bench, Definition Collimator, Goniometer, Angle Dekkor etc.

RESEARCH AND DEVELOPMENT WING:
(Recognized by Deptt. of Science & Technology)

QUALITY ASSURANCE WING:
Standards Room, Enviromental Laboratory etc.

MACHINE SHOP & TOOL ROOM:
CNC Milling, Micro Capstan, Automats, Copy turning & boring and numerous other Lathes, Milling, Shapers, planers, Grinders, Automatic Graduation, Pantographs etc.

FOUNDRY SHOP:
Pattern Making, No Bakes sand casting, Gravity Die Casting

METAL FINISHING SHOP:
Electroplating & Painting

PRESS SHOP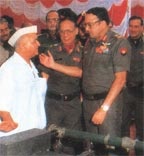 OUR MANAGING PARTNER SH. PANNA LAL WITH GENERAL S.F. RODRIGUEES (CHIEF OF ARMY STAFF)& LT. GENERAL H. LAL (D.S. BIS)


OUR DEFENCE ACTIVITIES
Navigational Equipments e.g. Signalling Projector, Sextant, Batternburg, Optical Measuring and Observation instruments e.g. Range Finder, Sight 30, Sight Periscope, RCL, Foco meter, Diptre Tele-scope, Electrical & Electronic Instruments e.g. Seven Channel Recorders, Bridge Megohmmeter, Hermatically Sealed meters. Revolver parts, lever extractor, shield etc. supplying to SAF & FGF.

EXCELLENCE IN EXPORTS
OSAW is the pioneer exporter of Scientific Instruments for over six decades. Our consistent efforts in Export have given us numerous Export Excellence Awards. OSAW enjoys a prestigious place in the USA, Europe, Middle- East,
South-East Asia and African countries besides catering to its valued customers in India.
A Venture with a Vision
OSAW has behind it a history replete witi success and achievements galore. It all begar in the year 1919 and since then OSAW has grown into India's leading makers of precisior Scientific and Educational Equipment. OSAW reflects a lustrous image of superb quality and image of commendable perfection. OSAW inspfres confidence because its products enjoy abundant credibility with Educational and Research Institutions the world over. Since its inception, the company has worked with perseverance to strike a synthesis between technical innovations and the need of its customers.