4873 FLETCHER'S TROLLEY
It is used for performing experiments on velocity, acceleration etc. The track 1720 x 150 mm is fitted with levelling feet, foam covered stops at both ends, and aluminrum pulley 50 mm diameter. An arrangement to release trolley and spring steel vibrator with mark at 5 Hz. and 8 Hz. is provided. With accurately balanced wheels running in self contained support brackets, 5 calibrated weights, 2 Brushes, 200 paper strips, ink, 50 meters of cord and 3 wooden blocks.

4700 PHOTOTIMING GATE
It is used as a light operated timing gate. It consists of a photodetector and light source (2.5V, 0.2A bulb) housed in two plastic cases held 40 mm apart on a metal rod: 4 mm sockets are provided for connecting it to the electronic timer. Power 2VAC.

5010 LINEAR AIR TRACK Triangular section aluminium alloy track, length 255 cm, with staggered air holes, supported on two light alloy castings positioned 45 cm from ea,ch end of the track. One support has a two point contact and other a one point contact for lateral and horizontal adjustments for which a knurled screw is provided. Large catapult arms with slots for elastic bands are fitted to each end of the track. A pulley fitted to one end of the track enables experiments involving acceleration under a constant force to be investigated. Identical end caps enable air to be introduced from either end of the track, bung being supplied to close the end not being used. The vehicles, buffer attachments and clamping screws are matt black to help interpretation of stroboscopic photographs.

4706 MOTOR DRIVEN STROBOSCOPE
(300 rpm 230 V) Two interchangeable black metal discs (250 mm dia) with 5 & 6 radial slots.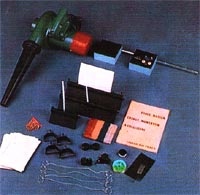 4700, 5010A, 5010B
4707 HAND HELD STROBOSCOPE
(250 mm Dia, 12 Slots)
5010A LINEAR AIR TRACK ACCESSORIES KIT
It is supplied complete with 2 large vehicles (mass 400 gm., length 215 mm) 1 small vehicle (mass 200 gm., length 100 mm)
2 magnetic buffers (25 mm dia)
2 plasticine holders (20 mm dia) with
central hole
4 catapults (45 mm wide) with slot for elastic band
3 steel buffers with central hole
4 elastic cords (220 mm long) with plastic rings
1 reel of nylon thread
2 white plastic rods (4 mm dia 150 mm long) for stroboscopic photography
24 needles for use with steel buffer
20 white plain cards for interrupting light beams
1 reel rubber strand
1 pack of plasticine
20 elastic bands
1 instruction manual

5010B AIR BLOWER
It is specially suitable for use with Linear Air Track. With a flexible hose terminating in a tapered adaptor (25 mm, aD). Power required 230V AC, 50 Hz.

4706